Tareq was proud of his father's 650 olive trees, some of them up to six centuries old. He looked forward to the day he would inherit them and pass them on to his children.
Unfortunately, he would never get the chance.
One December day, bulldozers came and uprooted them all. Most were destroyed. But some were transferred to towns nearby where Tareq was not allowed to live because he had a different religion.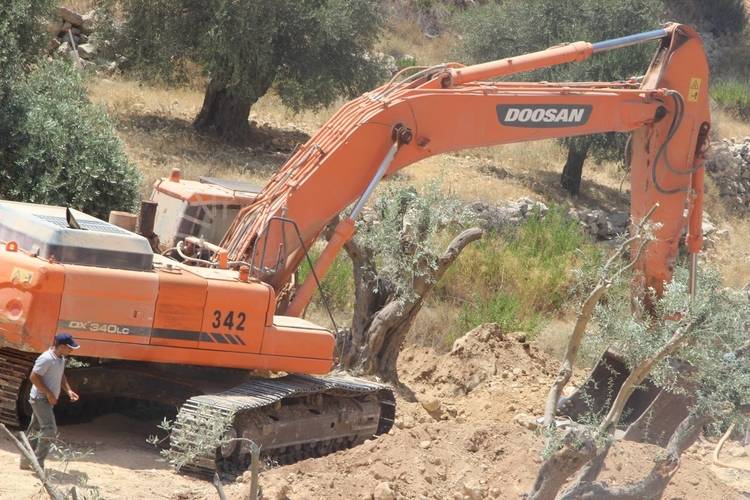 Shortly after the Israeli army occupied the Palestinian territories in 1967, the Israeli government began transferring Israeli civilians into Palestinian territory in violation of international law.
The first "settlers" were religious extremists who moved into buildings in the occupied Palestinian town of Hebron and refused to leave. The army protected them and the government allowed them not only to stay and occupy more buildings, but to also build a new town nearby on Palestinian land.
Since then, settlement-building (more easily understood as 'colonisation'), has been the means through which Israeli authorities are changing the facts on the ground. Around 600,000 illegal settlers now live in over one hundred settlements built on strategic hilltop locations and other prime lands above main water aquifers, with many more outposts scattered throughout the West Bank on expropriated Palestinian land.
Heavily-fortified roads, which Palestinians are not allowed to travel on, connect the settlements to each other and to cities inside Israel. And the Israeli army secures these illegal towns with checkpoints and huge 'buffer zones' that prevents Palestinians from accessing thousands of acres of productive farmland (Area C on the Map below).
And even though the illegal settlements constitute approx 5% of Palestinian land, the so called "security" apparatus and infrastructure that serve these illegal colonies requires Israeli control over almost half of the West Bank, turning it into a collection of fragmented enclaves.