Because the village of Sousiya is not connected to the water network, residents rely on cisterns that harvest rainwater.
Yet every time villagers build cisterns, Israeli authorities demolish them. They even confiscated the 10 water tanks which humanitarian agencies donated to provide relief for their demolished cisterns.
As a result, they are forced to buy expensive tankered water, leaving the average household to spend one-third of its income on water.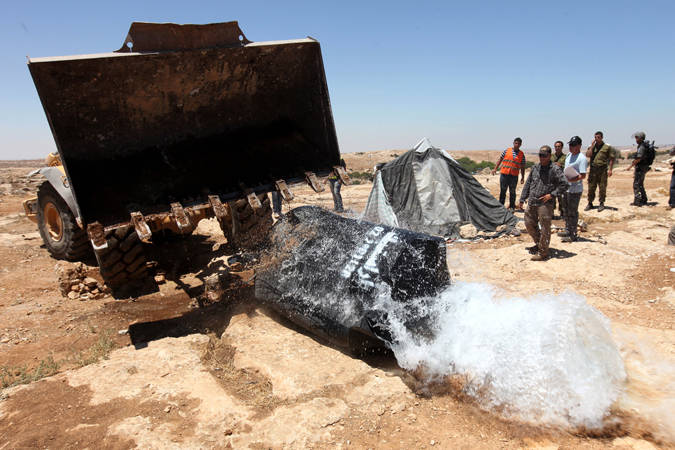 Water is a human right that is indispensable for human dignity and the pursuit of other human rights.
But whilst Israeli authorities extract groundwater from below the Palestinians to fill Israeli swimming pools, irrigate Israeli landscapes and water Israeli lawns, it forbids Palestinians from tapping into it themselves.
It also restricts how much water the Palestinians can buy back, charging them around 3 times more than what it charges Israelis. It also shuts off water supplies to the Palestinians for days and weeks at a time.
As a result, Palestinians have to buy tankered water at exorbitant rates and collect rainwater in cisterns, despite storage conditions making for poor quality water.
Israeli authorities forbid Palestinians from upgrading their water infrastructure (which leaks about 30% of its supply) and they frequently demolish Palestinian water infrastructure, which it then forbids them from rebuilding.
For farmers, this deprivation means giving up on agricultural cultivation en masse (which Israeli authorities can then use as an excuse to expropriate the land).
For families, this means resorting to coping strategies like:
Buying water from unsafe sources.
Flushing toilets less frequently.
Washing less regularly and fully, using a jug to limit water used.
Washing clothes and floors as infrequently as possible.
Hand-washing using a small quantity of water instead of a washing machine.
Only growing rain-fed crops in home gardens or not keeping a home garden at all.
Keeping fewer animals or none at all.
The net result is deliberately intended unhygienic and unsanitary conditions.