At 2am, Zakaria and his family were ripped out of their sleep by soldiers banging at their front door. First the soldiers ordered them into the street. And then into the room of a neighbouring house where a few of the soldiers held them at gunpoint.
Having waited several hours to understand what was going on, the suspense reached a climax with the sound of an explosion.
The guarding soldiers walked away and when the smoke cleared, Zakiria realised that the soldiers had blown up his home from within.
The interior walls had collapsed. All the contents were destroyed. The roof was cracked and all the windows were shattered. The house was no longer inhabitable.
Seeing his sanctuary and place of retreat destroyed, Zakiria demanded an explanation. The commanding soldier told him that his son was to blame and that he'd find out what his son had done at an upcoming court hearing.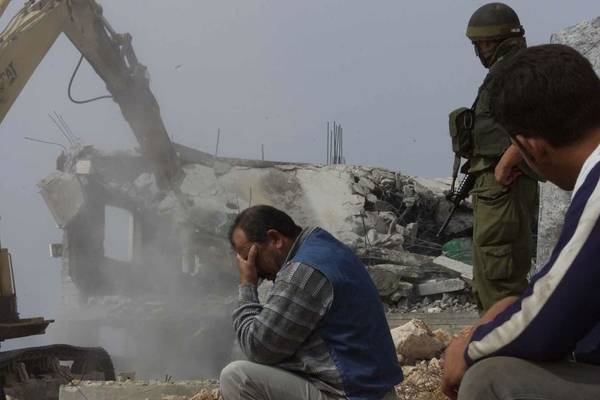 'Punitive demolitions' are when Israeli authorities demolish homes to collectively punish the families of Palestinians that attack Israelis — even if the attackers are no longer alive. So women, children and the elderly are all made homeless for something they didn't do.
If its a house, Israeli authorities demolish it outright. But if its an apartment, they destroy it from within. Of course, neighbouring apartments are seriously damaged as a result, often to the point that they too are no longer inhabitable.
But this isn't the only type of demolition which takes place. On the contrary, whenever Israeli authorities find a reason to demolish a Palestinian home, or anything else built by Palestinians, that is what they will do.
They demolish structures that Palestinians build or extend without permission. It doesn't matter if they own the land which they've built on. Nor does it matter that Israeli authorities reject over 94% of permit applications. Nor does it matter that Israeli authorities let Israeli colonists build colonies on Palestinian land without permission.
They demolish to create no-go areas around ever-expanding Israeli colonies and the roads that connect them.
They demolish to make way for their notorious Separation Wall.
They demolish to make way for continuously expanding military buffer zones around its continuously expanding borders.
And they demolish en masse during military operations, as seen in Gaza every few years.
They demolish farms, schools, barns, roads, playgrounds, solar panels and pipes.
They even demolish trees that Palesinians might plant or resevoirs that store rain water.