At a peaceful protest, Bassem was shouting at soldiers to halt the tear gas because someone had been hurt.
From nowhere, he himself was then hit by a high-velocity tear gas canister. He cried out in pain and tried to stand. But with a crushed chest, he collapsed and then died from his injuries.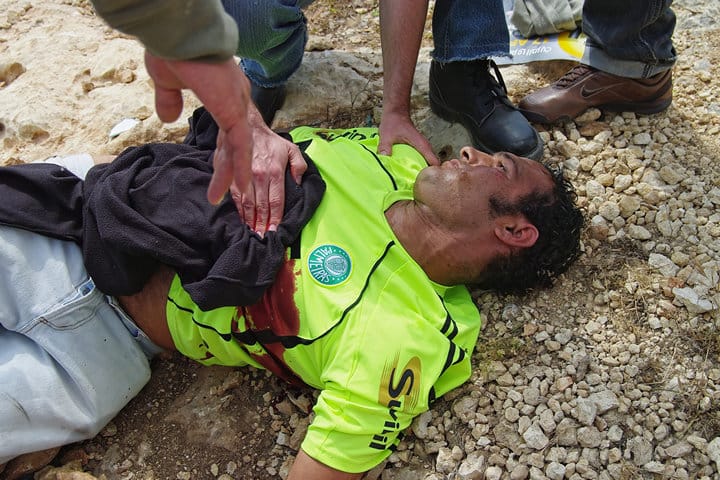 Bassem was the leader of nonviolent resistance in the small Palestinian town of Bil'in. Half of their land was stolen to make way for a nearby settlement expansion and, each week, its villagers march towards Israel's Wall to protest the illegal theft. It was in one of those protests, unarmed and not posing any threat, when Israeli soldiers killed him.
His case became well-known because the footage was featured in an Oscar-nominated film. But nonviolent resistance of Palestinians is repressed every day.
They are prohibited from protests, assemblies and vigils. They are prohibited from waving flags and distributing political material. And their attempts to influence public opinion are treated as "political incitement."
Their peaceful protests are met with tear gas, rubber-coated bullets and concussion grenades, often causing injury and death. Participants then face incursions and night raids intended to intimidate or arrest them. They are then held indefinitely under administrative detention.
Foreign peace activists are often blocked from reaching Occupied Palestine. This includes academics and medics that are openly critical of Israel's unjust policies.
Those who do get through risk physical harm or death. Those who try to nonviolently break Israel's naval siege on Gaza are detained, beaten and deported, whilst their boats, aid and equipment are confiscated. Some have even been killed in international waters.
The Palestinian Authority's tax revenues are held whenever they "step out of line" on the world stage. For example, when they sought UN recognition for Palestine or came forward to join the International Criminal Court.
Non-violent resistance abroad is even stifled by governments coordinating with Israeli Authorities to blacklist and punish local governments, businesses, organizations or individuals that support the boycott, divestment and sanctions of Israel or Israeli products.
People often ask, "Where is the Palestinian Gandhi?" They are everywhere. But they live in fear of harm, jail, exile or death, and seldom does the media cover them.